Bankes Reunion, 18 June 2011: Robert Hanham Collyer Talk Notes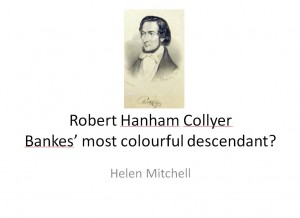 This page contains the text of the slides that were used by Helen Mitchell in presenting her talk at the Bankes Descendants' Reunion at Coulsdon on 18th June 2011. Some content has been added to improve  the flow of the narrative.
Index and Links to Sections.
1.  Robert Hanham Collyer Early life & education
2.  Robert Hanham Collyer Phrenology
3.  Robert Hanham Collyer Mesmerism
4.  Robert Hanham Collyer Lights and Shadows
5.  Robert Hanham Collyer In England 1843-1845
6.  Robert Hanham Collyer Jersey 1846-1847
7.  Robert Hanham Collyer The Model Artistes
8.  Robert Hanham Collyer Goes West
9.  Robert Hanham Collyer California Adventures
10. Robert Hanham Collyer Back to Europe
11. Robert Hanham Collyer Inventions
12. Robert Hanham Collyer Anthropology
13. Robert Hanham Collyer and Evolution
14. Robert Hanham Collyer and Anaesthesia
15. Robert Hanham Collyer and Spiritualism
16. Robert Hanham Collyer – France & Belgium
17. Robert Hanham Collyer 1870s
18. Robert Hanham Collyer's women & children
19. Robert Hanham Collyer The Last 10 Years
20. Robert Hanham Collyer – What was he Like?
1. Early life & education
 Robert Hanham Collyer (RHC) is born in 1814 at St Helier, Jersey, the eldest of 13 children
Son of Robert Mitchell Collyer, grocer & Ann Elizabeth Dujardin, resident in St Helier. Formerly of London.
Around 1831 Collyer studied in Paris under "the famous prophet of phrenology Johann Gaspar  Spurzheim."
1833-1835 Studies medicine at London University
March 1836 Arrives in Philadelphia with his parents and siblings, immigrants to the New World
1839 Registered as a senior student at Berkshire Medical Institution, Massachusetts,  graduating a few months later – afterwards styled himself 'MD' – though some doubt exists over  the validity of the qualification
2.  Phrenology
While at London University, Collyer studies under John Elliotson, a pioneer of mesmerism and phrenology
On arrival in America in 1836, RHC almost immediately sets up in business delivering public lectures & private consultations on phrenology, using his younger brother Frederick to  demonstrate  Phrenology
Lecture tour 1836-7
Then spends the winter of 1837 "examining the heads of more than 300 negroes"
His research results in the publication of Manual of Phrenology published in 1838. He sells copies at talks,  with personalised readings pasted inside.
 In 1838-9  he continues touring and speaking on phrenology.
While on tour RHC has an interesting encounter with Captain Marryat, which we will return to  later…
3.  Mesmerism
In Autumn 1839, he spends time in Providence, Rhode Island, where friends 'converted' him to mesmerism
Within a few weeks he is 'magnetising' young ladies at parties
From Spring 1841 he begins lecturing publicly on mesmerism
He travels with a young Irish boy known as 'Frederick' who is a particularly good  mesmeric subject – there seem to have been several Fredericks
RHC still lectures on phrenology – he'd simply expanded his range of talks!
 Collyer soon realises he can combine phrenology & mesmerism – using mesmerism to 'act on the  phrenological organs' – inventing 'phreno-magnetism'
He had ceased to believe in this by Autumn 1842
By 1843 he has come up with – and written a book about – Psychography, or the embodiment  of thought
Psychography contains the much-ridiculed 'Bowl of molasses experiment'
July 1843 while lecturing in Canada – Charles Snyder claims he was being paid by Collyer  to perform staged demonstrations – 'Great anti-mesmeric meeting'
A number of controversies including this may have led to him returning to England in October 1843
 4. Lights and Shadows
Circa 1838 – Lights & Shadows of American Life is published in Boston, followed by a second edition in  1843
The book gives Collyer's early impressions of America, and is less than complimentary about  many aspects of the country – more shadows than lights
It does not make him popular!
1843 – Arrives back in England and claims he is not the author of the book
1844 – Oddly, a couple of months later in an advert for one of his shows in Cheltenham it  sells him as being "author of the celebrated 'Lights and Shadows…'"
5.  England 1843-1845
RHC tours England during this period, including lectures at Cheltenham and Liverpool
In addition to lectures on mesmerism he has a new string to his bow:
Accompanied by a American Indian, Joc-O-Sot, he lectures on 'Wild men of the far West' –  claiming to have spent time with eight Indian tribes while in America
In April 1845 he marries Susannah Hawley Macdonald, a 30 yr old widow, in Devon
In June a report of the marriage appears in US newspapers; says Susannah is the  granddaughter of Flora Macdonald, who helped Bonnie Prince Charlie escape. Self-evidently  this was not true
In July RHC sails back to New York, after which he appears to have spent some time in  charge of a cholera hospital in Mexico
6.  Jersey 1846-1847

Between summer 1846 and summer 1847 he returns to Jersey
He practises as a physician and gives the odd public lecture
He appears to have experienced some ill health during this time
7.  The Model Artistes
In September 1847 Collyer arrives back in New York, accompanied by his father and a cousin,  with a bang!
He launches a 'Model Artistes' show – where models – supposed to have been brought over  from Rome and London – pose on stage dressed only in a body stocking, impersonating poses  from classic sculptures and paintings
Collyer's wife is said to have obtained some notoriety in her pose as 'The Greek Slave'  by Hiram Powers
Some say it is tasteful, and brings art to the masses
Others have a different opinion!
The Model Artistes stay in New York around three months, playing to packed houses
They then tour New Orleans, Cincinnati, Alabama, and other locations, before returning to New  York.
During one show Mars treads on the toes of Venus and a fracas ensues – the rest of the cast  and the audience join in
 8. Collyer Goes West
At the end of 1848 Collyer starts advertising talks in New York giving people practical advice on identifying and washing gold – apparently he is an expert on this thanks to being a Professor of Chemistry!
The following April he departs for California as part of the 'Fremont Association' party, accompanied by Mrs Collyer and Frederick, his 'brother'.
The first part of the journey is by  ship to Galveston
 Before the ship gets even half way to Galveston Collyer has fallen out with the other members of the Association and been expelled
He is accused of not helping with cooking, of trying to swindle the group over a case of medical instruments, and it is said there is an 'unenviable notoriety' surrounding him.
 Members of the group suspect his wife may not be his wife and his brother may not be his brother – or even male!
 On arriving at Galveston Collyer parts company with the group
He journeys via Saltillo, Mexico & through the Sierra Madre where he is 'attacked by banditti
 9. California Adventures
On arrival in California we first find him up in the hills near Sacramento looking for gold
Another traveller describes him in his diaries as "particularly sour and morose"; continually complaining that California is a poor country and that one would be hard pressed to stay the winter there
Sure enough, by next Spring he has given up on finding gold in the hills and has returned to town to find gold, opening the 'Athaeneum' in San Francisco, and putting on a Model Artistes show
Also takes the Model Artistes to other theatres in the area
 Just over a year later the Athaeneum burns down in the Great Fire of San Francisco
While in California he invents and patents a number of gold-related machines – a new method of crushing quartz, a new amalgamating apparatus and a gold-crushing machine, for example:
He also later patents an improved breech loading cannon said to be inspired by his Californian adventures
He also has a son, Robert A Collyer, born in California in 1852
10. Back to Europe
In August 1852 a report appears in the newspapers that Collyer has inherited a fortune from a relative, who died intestate
By 1853 he is back in New York (where he attends a seance with a celebrated medium) before departing for Europe
Back in England in 1854 Collyer is exhibiting his gold machines at the Crystal Palace; they are being built by a firm in Ipswich
Later he also exhibits at other exhibitions around Europe, including Paris and Moscow
At the International Exhibition inLondon in 1862 Collyer is Chairman of Class 4 (animal and vegetable substances used in manufactures)
But – he is ousted as chairman by a certain Mr Smith, who takes Collyer's place in the procession for the distribution of prizes. Collyer tries to take back his place in the procession and a scuffle ensues, ending with him being held back by a policeman!
 11. Inventions
Over the next few years he focuses mainly on his inventions, with patents recorded in the UK and USA:
New paper material
Machine for cleaning & purifying grain
A new coating for the bottom of ships
A chemical ink pencil
Telegraph cable improvements
New chemical tubing
New flax treatment machinery
 12. Anthropology
Collyer also regarded himself as an anthropologist
In 1855, while in Suffolk (presumably while visiting the manufacturers of his gold crushing machine) he becomes interested in a coprolite pit where an interesting jawbone had been found.
He obtains the 'Foxhall Jaw' two years later from Sir Thomas Beaver
During the 1860s RHC is a member of the Anthropological Society of London, to whom he donates a skull from Oregon
He is appointed Special Commissioner for Anthropology at the Paris Exhibition in 1867
The same year he publishes a paper about the Foxhall Jaw
 13. Evolution
Collyer appears to have been a firm and early believer in evolution:
1839 His thesis at Berkshire Medical College was on 'the progression of animal life'
1841 RHC shocks his audience by saying Jesus' miracles were the result of animal magnetism (ie mesmerism)
1849 En route to Galveston – he starts to give a lecture on the first chapter of Genesis but is stopped by the ship's captain. A Methodist minister criticised 'those preaching false doctrines'
 14. Anaesthesia
Collyer was one of many to claim to be the true discoverer of anaesthesia
He said he had been experimenting with using drugs (as well as mesmerism) throughout his career to render subjects unconscious or insensible; for example:
In December 1839 his father was running a distillery in New Orleans; a slave was sniffing the alcohol fumes coming from a vat and passed out as a result; he fell, dislocating a hip. Collyer was able to fix his hip without him feeling pain
During 1840 he says he carried out a series of experiments and demonstrations with nitrous oxide
In 1841 RHC is said to have rendered a child unconscious using a combination of mesmerism and morphine to facilitate an eye operation
During 1842 he "nearly sacrificed the life of his brother when submitting him to experiments with Indian hemp and alcoholic vapours"
Extracting teeth from his mesmerised subjects on stage was a key part of his act!
 During the 1840s there was much controversy about who was the true discoverer of anaesthesia
The debate ran and ran – and was still being discussed in the 1870s
1870 The Lancet says "Dr Collyer, to our minds, is the true modern pioneer, after all – the man who ran first."
1877 Collyer publishes a pamphlet Early history of the anaesthetic discovery, styling himself 'original discoverer of the nitrous oxide, ether and chloroform process'
 15. Spiritualism
Collyer had first seen a medium, Mrs Astor, in New York in 1853
His second experience with a medium was in 1859, but this turned out to be a fraud
In 1856 his brother Joseph had been killed in an accident on a steamship near New Orleans; at the moment of his death, their mother, hundreds of miles away saw Joseph appear in her  bedroom doorway, bloody and dressed in a nightgown – which is what he was wearing at the time of his death
In late 1860 / early 1861 RHC attends several seances and becomes convinced that what he was seeing was not trickery or optical illusion
In 1862 he contributes an article to Spiritualist Magazine
In 1876 an American medium, Henry Slade, best known for his slate-writing phenomena, visits London. He was accused of being a fraud, tried and convicted
 Between accusation and trial many 'scientific men' tried to test him out – including Collyer, who visited him three times and was convinced there was no fraud involved
16. France & Belgium
Apparently within weeks of registering his daughter Emily Pauline's birth in 1865, Collyer and family had decamped to mainland Europe
Over the next 5 years they lived in or passed through Pont Audemer, Boulogne (where a son was born) & Paris in France, and Bruges and Courtrai in Belgium
By 1871 the family were back in London, though in 1872 Collyer visited Moscow for an exhibition.
They stayed in London until around 1878/9.
17. 1870s
During the 1870s he begins to write more again –
1871: Mysteries of the vital element : in connexion with dreams, somnambulism, trance,  vital photography, faith and will, anaesthesia, nervous congestion and creative function:  modern spiritualism explained
1873: Exalted States of the nervous system
1876: Automatic writing; The Slade prosecution; Vindication of the truth
1877: Early history of the anaesthetic discovery; or painless surgical operations
18. Private Life – Collyer's women & children

What of Robert Hanham Collyer's wife and children
The earliest mention we have found of a 'Mrs Collyer' is in 1838 at Louisville, Kentucky, USA, where he caught her in bed  with Captain Marryat (of Children of the New Forest fame), causing a scandal. A duel was  averted.
In April 1845 RHC marries Susannah Hawley Macdonald. She is said to have left him nine months later, in  January 1846
In 1849 Collyer is accompanied by 'a lady' suspected not to be his wife en route to  California; "Another encounter takes place between Dr Collyer and his lady which resulted  in the latter obtaining a sable-coloured eye and cut lip."
1852 A son, Robert A Collyer is born in California – mother unknown
1858 – A ship passenger list shows him arriving in New York with a Mrs Collyer
1861 – Census records show him in London, living with 'wife' Eliza, age 30 and son Robert  A Collyer
1863 – A daughter, Dulcybella, is baptised in London – mother's name given as Mary Ann.
1864 – Marries Emily Jeans Clements, who is aged 16 (he is aged 50) in London
1865 – Daughter Emily Pauline Leitrim Collyer is born in London
1866 – A son – Robert ('France') Collyer – is born in Boulogne
1873 – RHC's Marriage to Emily Jeans Clements is annulled when she finds out his first wife was  still alive! After the annullment the children stay with their mother and some members of the family later  emigrate to Canada.
1876 – Has been living with a certain Mrs Sigismund for some time, and she has taken his name. Her  husband files for divorce.
How many more women were associated with RHC?   Who knows!
19. The Last 10 Years
For the last 10 years of his life Collyer appears to have lived primarily in America,  though in 1881 he is known to have spent time in India and possibly also in Egypt
He continued to patent inventions into his mid-70s
He may have been the Dr Collyer who was Chemist of the Agricultural Department in  Washington
Robert hanham Collyer died – according to a statement by his sisters – around the year 1890 in the New  Orleans area. The exact date and location is unknown.
20. What was Collyer like?
1839 – "as to the merits of Dr. Collyer as a Lecturer, as an intelligent man, and as an independent friend of truth, we hereby tender him our best wishes for his future success in life; and our thanks for his laudable efforts to rescue an important branch of science"
1843 – The Rover Omnibus, Boston:  "…a small cadaverous looking individual, with immensely black whiskers, contracted  eyebrows, and a very liberal quantity of under lip, in a large arm-chair, now changing his  legs from the left arm of he chair to the right, now crossing them on the table, or  slipping as far down in his seat as possible, and with an herculean effort, hang them by  the heels on the mantel-piece; all this time spluttering vehemently, talking around some  point in mesmerism, but never at it."
 1849 – "He made a somewhat eloquent speech which amounted to nothing"
1849 – "Frightened while bathing by a fish coming near him"
1849 – "A middle-aged man; of a peculiarly sour and morose temper, seemed to find no  employment so congenial as grumbling"
1870 – The Lancet says "Dr Collyer, to our minds, is the true modern pioneer, after all – the man who ran first."
Acknowledgement:
The image at the top of this page is a lithograph of a young Robert Hanham Collyer, and is reproduced on this website by courtesy of the American Antiquarian Society, Worcester, MA, USA.
This page was last updated on Monday December 12th, 2011.